Dental Insurance Information
At Alliance Endodontics, home of Root Canal Specialists- Dr. Benjamin Webber, Dr. Theodore Y. Tutwiler and Dr. Branimir Lackovic, we make every effort to provide you with the finest root canal care and the most convenient financial options. To accomplish this, we work hand-in-hand with you to maximize your dental insurance reimbursement for covered procedures. We make every effort to contact your dental insurance company prior to services to give you the best possible estimate ahead of treatment. Our quote is not a guarantee of payment due, but when given your dental insurance information ahead of time, we usually come very close to your expected out of pocket expense ahead of time. We will file and accept dental insurance payments with all dental insurances on your behalf. If you have any problems or questions, please ask our educated dental center staff. We are well informed and up-to-date on dental insurance information. Our dental center can be reached by phone at (931) 553-8484 and we look forward to working with you soon!
Please call if you have any questions or concerns regarding your initial visit.
Please bring your insurance information with you to the consultation so that we can expedite dental insurance reimbursement.
Payment Options
We accept CareCredit! CareCredit is a fantastic option that you can use to pay for treatments and procedures not covered by insurance. Click the link below to learn more about CareCredit and to apply. We offer 6 months deferred interest with our office.
We also offer an in house plan that lets you divide your expected out of pocket into 2 payments. We will accept half on the day of service and then the other half within 30 days on a day that you pre-authorize. You would just need to leave a second check or your credit card information so that we can charge it on the pre-arranged date.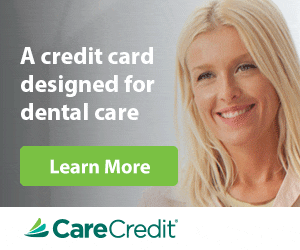 Call Us With Any Questions, We are Here to Help! (931) 553-8484